About the Film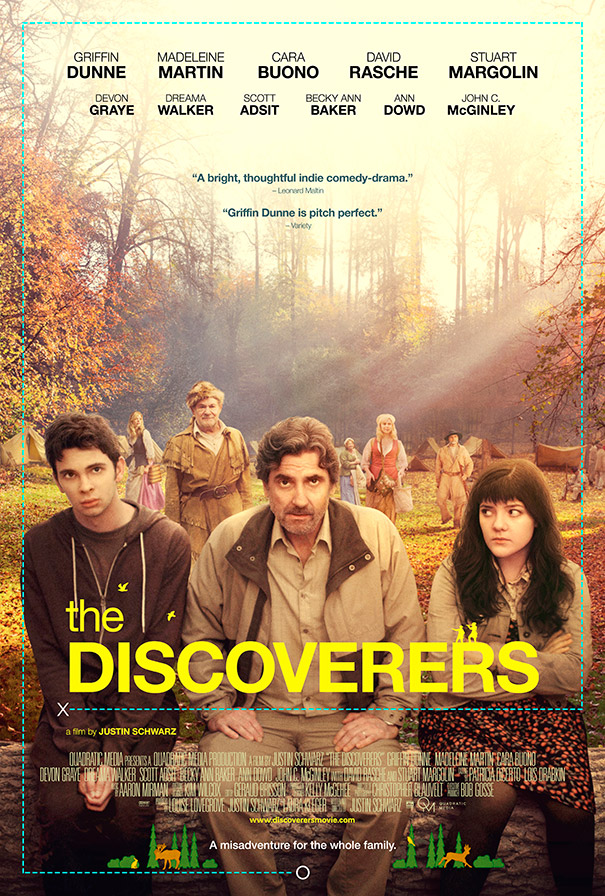 Washed-up history professor Lewis Birch (Oscar and Emmy nominated Griffin Dunne) takes his begrudging teenage kids – Zoe (Madeleine Martin, "Californication") and Jack (Devon Graye, "American Horror Stories") – on a road trip to a conference in hopes of putting his career back on track. But, when Lewis's estranged father Stanley (Emmy Award-winning Stuart Margolin) goes AWOL on a Lewis and Clark historical reenactment trek, Lewis is forced to make a family detour. The Birch family find themselves on a journey of discovery and connection as they make their own passage west.
THE DISCOVERERS is a bittersweet comedy and moving debut feature from writer/director Justin Schwarz led by Dunne's striking comeback performance. This engaging tale of family dysfunction and rediscovery also features a talented ensemble cast including David Rasche, (IN THE LOOP), Dreama Walker (COMPLIANCE), Ann Dowd (COMPLIANCE), Cara Buono ("Mad Men"), Becky Ann Baker ("Girls"), Scott Adsit ("30 Rock"), and John C. McGinley ("Scrubs").
The Discoverers creative team includes cinematographer Chris Blauvelt (Bling Ring), production designer Kelly McGehee (What Maisie Knew), editor Geraud Brisson (Big Sur), and Oscar-nominated sound designer Ron Bochar (Moneyball).
---
Awards
Jury Prize, Best US/International Narrative Feature
Kansas City International Film Festival
Jury Prize, Best Film
Oxford Film Festival
Achievement in Acting Award, Griffin Dunne
Sarasota International Film Festival
GenArtist Emerging Actress Award, Madeleine Martin
GenArt Film Festival
GenArtist Emerging Actor Award, Devon Graye
GenArt Film Festival
Outstanding Actor Award, Griffin Dunne
Sedona International Film Festival
Spark Breakthrough Performance Award, Madeleine Martin
RiverRun International Film Festival
Best Score Award
GenArt Film Festival
Jury Prize, Honorable Mention
Philadelphia Film Festival